PURIFYD®SYSTEMS available at rv city in Morinville and Nisku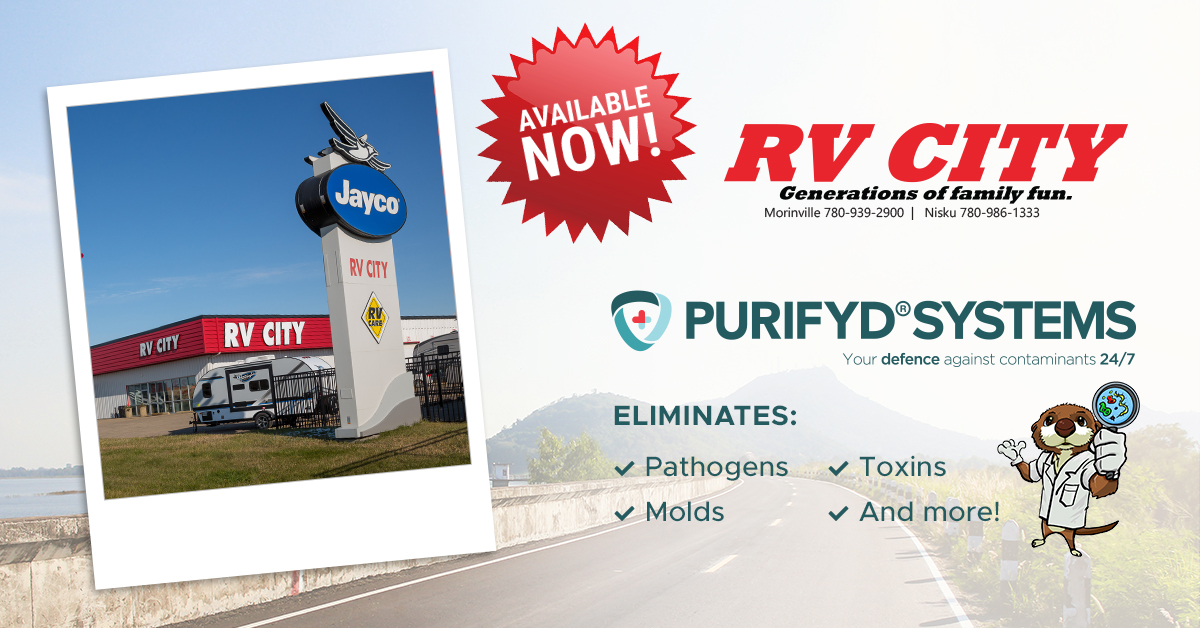 At RV City, we are serious about the safety of our customers. That is why we now offer and recommend PURIFYD®SYSTEMS, a revolutionary health protection service that keeps your family safe from harmful pathogens such as toxic molds, viruses, germs, bacteria and allergens that can live in your vehicle.
We have selected for our ongoing treatment program that will eliminate the build-up of these pathogens in your vehicle. The PURIFYD®SYSTEMS Formula is extremely powerful and effective and is regularly used by federal agencies in the United States and Canada for decontamination of facilities and vehicles. A PURIFYD®SYSTEMS Treatment removes 99.9999% of the harmful pathogens found in your vehicle and leaves a protective, anti-microbial layer to deter future contamination. The intelligent chemistry in PURIFYD®SYSTEMS will virtually eliminate any allergen, bacteria, virus, mold and more spore that it contacts, as well as their associated odours.
In the unfortunate event that your RV has experienced rodent intrusion issues, a PURIFYD®SYSTEMS can also address any contamination created by these visitors .  The treatment is completely hypoallergenic and will leave your unit smelling "clean and fresh". PURIFYD®SYSTEMS has no artificial scents and is safe for all fabrics and surfaces in your RV. Protect your health and your lifestyle investment today with a PURIFYD®SYSTEMS treatment.
RV City's sales department has adopted a policy of doing a PURIFYD®SYSTEMS treatment on every used RV we sell to properly prepare the unit for their new owners. 

PURIFYD®SYSTEMS is safe for your vehicle, your family and the environment. It is registered with the United States Environmental Protection Agency as environmentally safe and with Health Canada as safe for food handling facilities.
We recommend between 2 and 4 treatments per year, depending on how you use your vehicle. Call your service advisor today to schedule a treatment.