RV CITY REVIEWS
At RV City we believe the key to our success is providing you with the best possible experience. This is why we place a great deal of importance on getting feedback from you our customer. We always encourage anyone who has visited our dealership to leave a review of their experience on Google, Facebook or here at rvcity.ca
On this page you will find multiple ways to leave us your feedback. First we provide a step by step guide as to how you can leave a review of RV City on Google and Facebook. Second we allow you to tell us what you think of us right here on this page, all you need to do is scroll to the bottom and fill out the form we have made available. As always you can also give us your feedback through more traditional methods either by phone at (888) 438-8588 or by email at sales@rvcity.ca

Review RV City on Google and Facebook - you will need to be logged into your Google or Facebook account to leave a review.
* Google Reviews can be submitted on the Morinville or Nisku google page. Follow the steps below to leave a review for the location you visited.

At RV City we believe the best way to share your experience with us is on Google, this way anyone searching for a reputable RV dealership in the Edmonton area can see how we stack up. It is quite easy to leave a review of RV City, in fact it only takes two steps as outlined by our guide below.
Step 1
Go to google.ca and search " RV City Morinville " or " RV City Nisku " and you should see the page as shown in the image below. When you see this page on the right hand side you will see our dealership information. As you scroll down you will see a button that says "Write a review" "Add a photo"
click the Write a Review button (as indicated by the Purple arrow on the image below).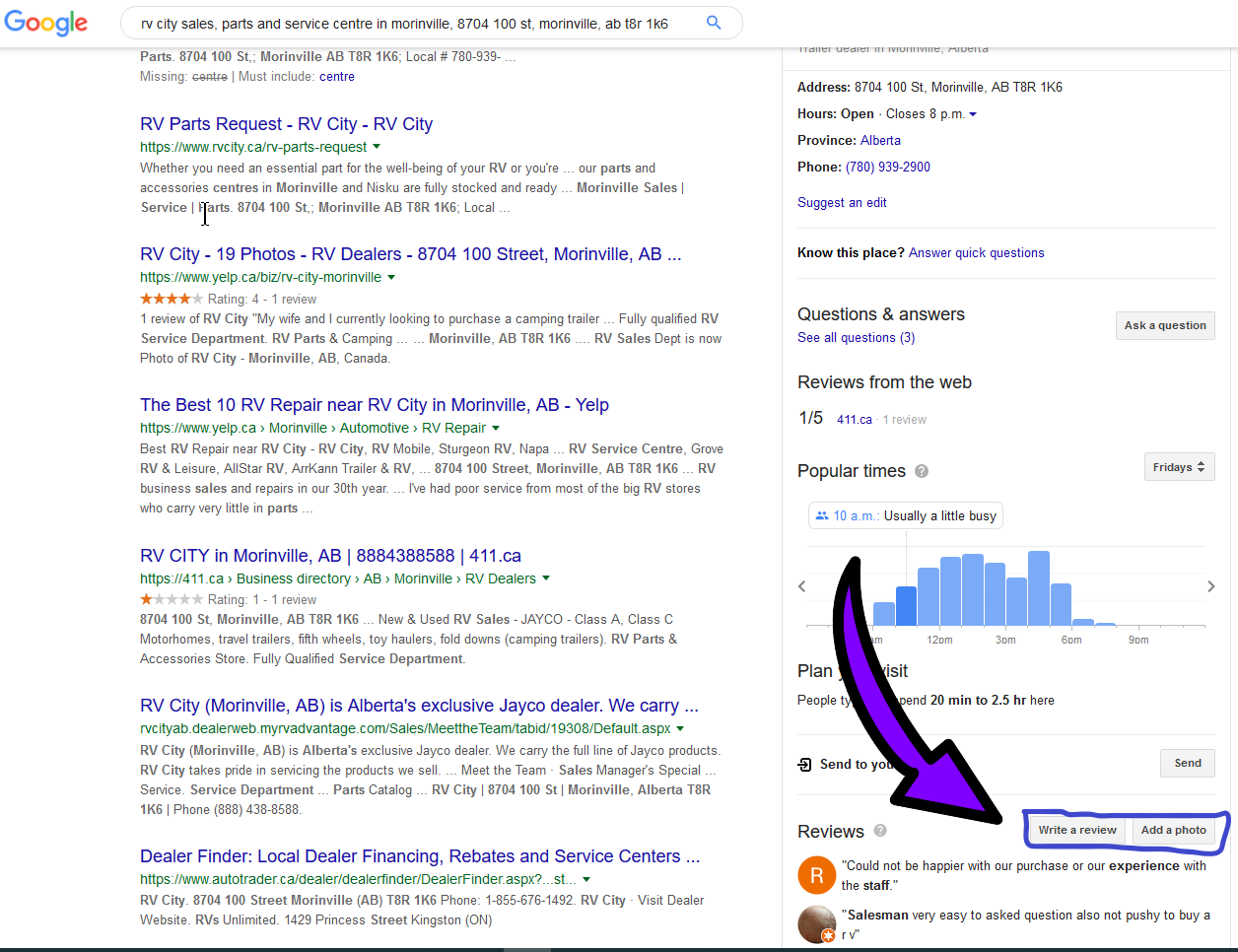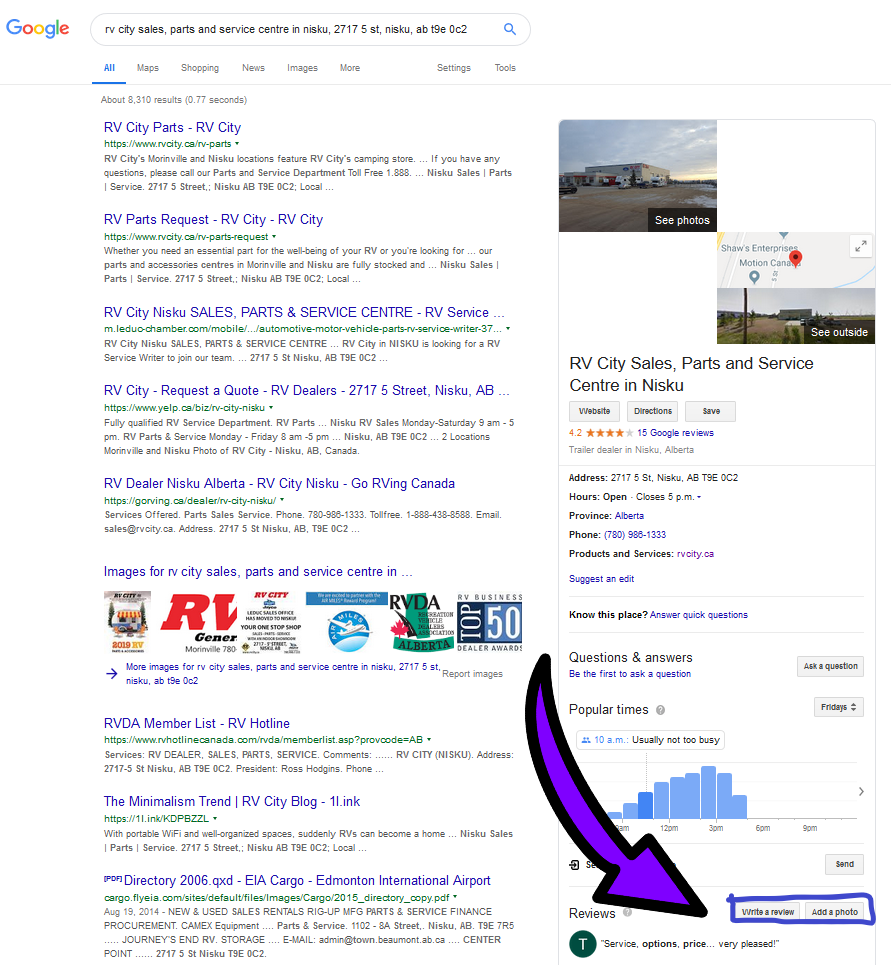 Step 2
Once you click the "Write a review" button as described in step 1 you will see a popup appear, as shown in the image below. This will only occur if you are currently logged into your Google account.
If you are not logged in a popup will appear asking you to login, once you login you will be redirected back to the review popup.
Please leave us a star rating and any comments and pictures you may have in this review box and then click post.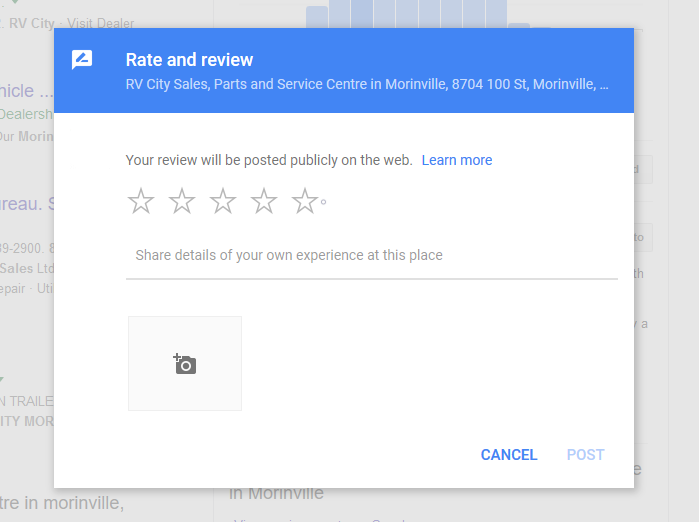 Facebook Recommendations can be submitted by following these steps
Step 1
Search for RV City Alberta in the top search bar



Step 2
On the left side of the page click Reviews; click on YES or no under Do you recommend RV City?
and leave us a Review. Easy-peezy!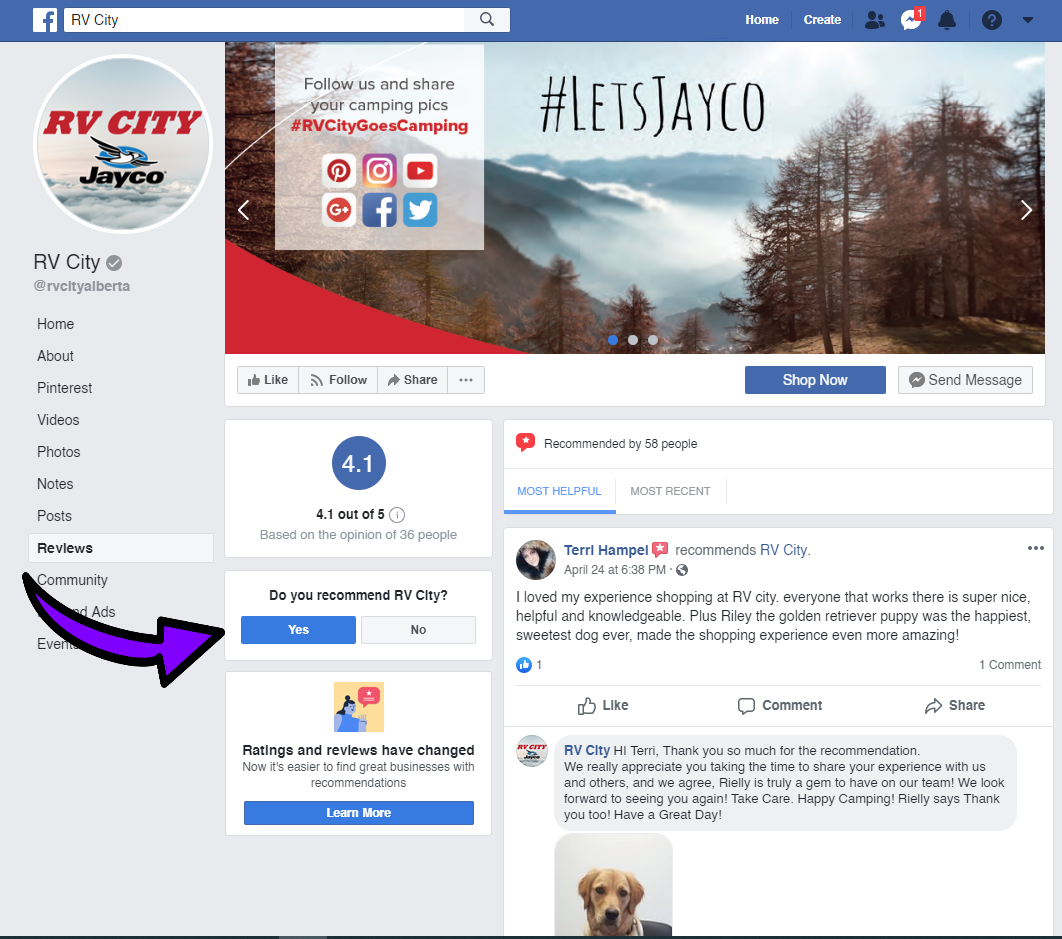 Thank You for your Review! We appreciate the feedback and love seeing your pictures of you visiting our dealerships and of you enjoying the great outdoors in your RV.
It's that easy! You have now left a review for other consumers like yourself to review before choosing which RV dealership they should visit. Thank you for sharing your feedback of RV City we always appreciate hearing what you have to say.
Review RV City by using our Contact Form Below
RV City Customer Reviews that have been sent through Facebook, Google and by email.
We have received lots of feedback over the nearly 50 years we have been serving Edmonton and area. Take a look at some of the reviews our customers have shared with us.
Facebook Message from one of our Adventurous Customers...Kevin Leung sent us a short message with some pictures Nov 3rd

Thanks for helping me get this new rv. This was my trip to Glamis, California.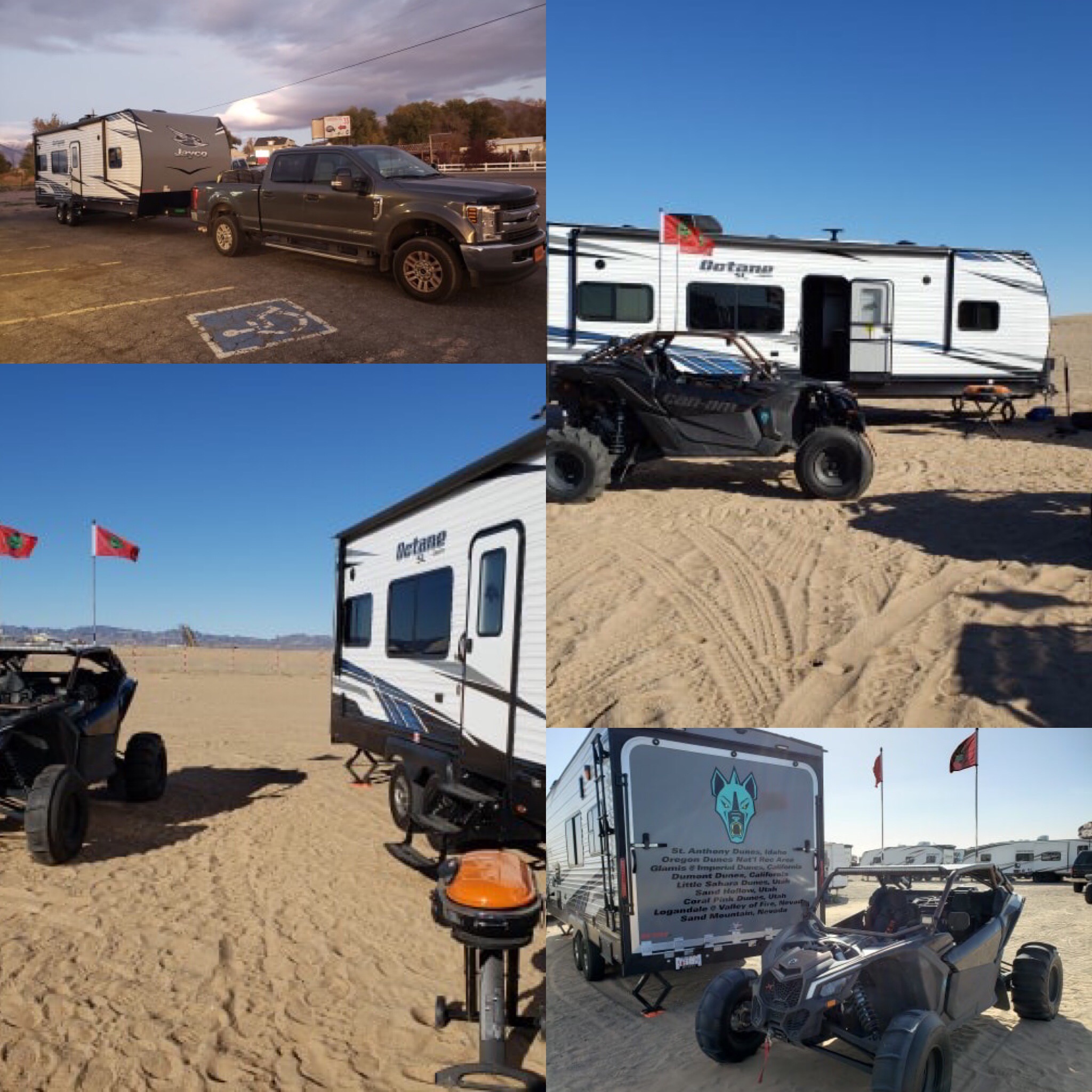 _______________________________________________________________________________________________________________________________________________________________________
Robert Taylor reviewed RV City on Google - 5 star

"My Wife and I purchased a new Class C in the fall of 2018, over and above the great deal was extremely great customer service! I was out of town the day she went to pick up the new unit, as we have owned an RV for almost 20 years, I assumed it would be a simple in-and-out process. The sales rep insisted on taking her through a full walk through of everything and showing how everything in the entire unit works, this certainly wasn't expected however greatly appreciated! Thanks Dale and the entire staff of RV City for outstanding customer service."
_______________________________________________________________________________________________________________________________________________________________________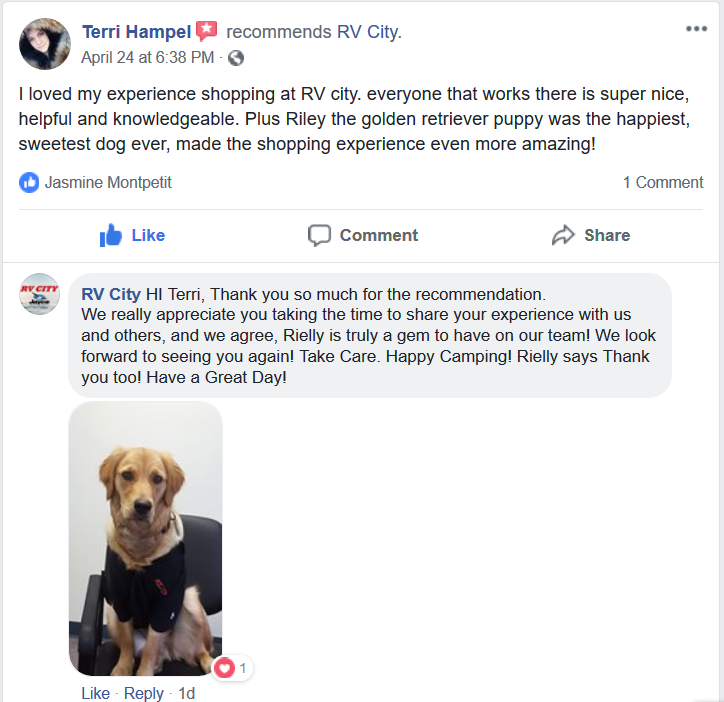 _______________________________________________________________________________________________________________________________________________________________________


Paul Hobson reviewed RV City on Facebook - 5 star

"Bought a used rv from RV City in August and had great service. They even sent a tech out to our campground to take care of some minor problems that cropped up.
When we made the deal, it included a small trade in on our old trailer. RV City was going to take it just for salvage. Just before delivery of our unit to Sandy Beach Family.
Campground, we learned of a gentleman, a Cuban refugee, who was in need of a small unit such as our trade-in. We contacted Rv City who agreed to us "giving" the trade-in to him and they still gave us the agreed amount for the trade.
They have made our friend and us VERY happy customers.
Thanks to all and to our salesman, Fernando who was fun, helpful and professional throughout.
_______________________________________________________________________________________________________________________________________________________________________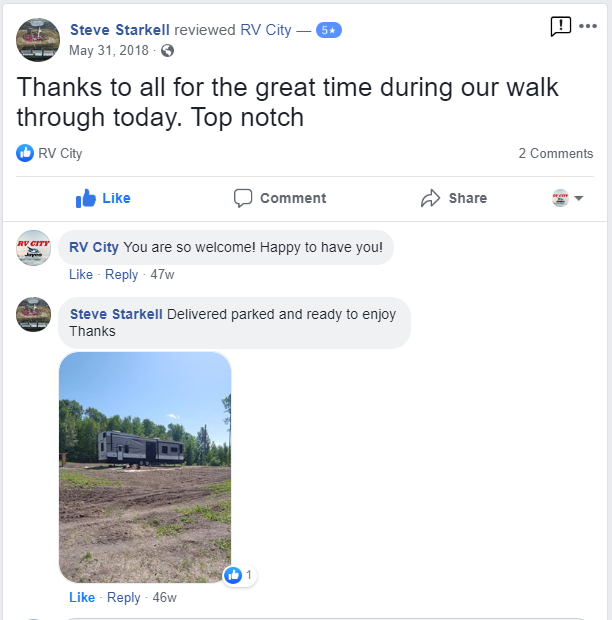 _______________________________________________________________________________________________________________________________________________________________________


Larry Schoenknecht reviewed RV City on Google - 5 star

Best deal on our new Jayco Eagle HT 27.5 by far. Enough to warrant dragging the wife along for 7.5 hr. drive, sleeping the night in RV Cities lot (in our old trade in RV) and driving back 7.5 hrs pulling the new one. And still staying married after all that.
Great Sales, Management, Finance departments. In and out of there in no time flat.
Thank you Everet and team.
_______________________________________________________________________________________________________________________________________________________________________