Fun Camping Meals For Everyone! 
Camping can be an amazing bonding experience for everyone involved and cooking at your RV site should be no exception!
Some of our best childhood memories are of eating around the campfire.
Campfire Pie Iron Desserts
Campfire Grilled Fish Tacos
  Grilling fish over a campfire is great, but turning it into fish tacos is even better. Kids will love this so much they won't even know they are eating    healthy! (Recipe & Photo Credit)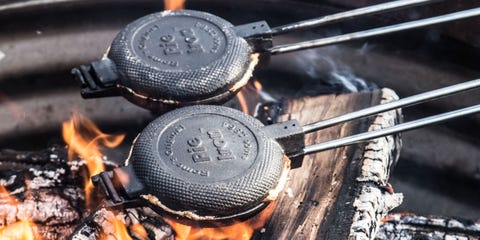 9 Pie Iron Recipes to Make On Your Next Camping Adventure
You've been there before. It's day two of your camping trip and you're already tired of the hot dogs and s'mores routine. That's where the pie iron—a small cast-iron pan that lets you toast, bake and grill food right on top of the campfire coals—comes in. Not only can you easily cook up grilled cheese, breakfast sandwiches and pizza with a pie iron, but you can also bake mini pies, cinnamon rolls and all kinds of sweet treats that you previously thought were impossible to cook outdoors.
20 Foil Packet Recipes Making Dinner a Breeze
No matter what time of the year, foil packet recipes are always in season. Taking the fuss out of cooking, especially when it comes to dinner recipes, foil packets can be baked, roasted, grilled, or tossed over an open campfire. Simply load up your favorite flavor combinations, make sure the packs are completely sealed, cook, and enjoy.
21 Crave Worthy Cast Iron Desserts
Cast iron is one of the most time tested ways of cooking outdoors. It's basically indestructible, and with some practice it can handle everything from frying bacon to baking cakes. That versatility is what makes it so popular with campers. You can whip up soups and stews in a snap, but cast iron desserts are also popular among campfire cooking enthusiasts. Because these recipes involve baking, make sure you get a good coal bed going so you can cook slow and low over even heat. Cast iron desserts require patience but they're so worth it! When it comes to cleanup, we'll share a little tip with you. The best tool we've ever found for cleaning cast iron is a chainmail scrubber. No matter how hard the baked-on bits are they come off easily with a one of these. You'd think that the scrubber would be hard to clean too, but it's not. Somehow nothing sticks to it. We can't recommend them enough. Now, on to the desserts!!

35 Incredibly Easy Dutch Oven Recipes For Camping
No camping trip is complete without great food! Cooking for two? Or a crowd? We've got outdoor camp meals that can be cooked in cast iron Dutch ovens using charcoal briquettes or tripods and grates over campfires. Looking for yummy breakfast, lunch and dinner Dutch oven recipes for camping your family will love?
Everyone enjoys eating something that they've made with their own hands, and you'll get a lifetime of memories that the whole family can think back on!